Over time, I've learned that the principles of design can be applied in infinite ways. During my studies at the art institute, I never imagined that I'd be designing exterior building signs. Yet, here I am, and everything I've learned through my education and experience was applicable to the refresh of our university's wayfinding.
The Planning Stage
It all began with the logistics. How many signs would be needed? Where did signs exist that weren't needed and where would we need new signs that didn't exist before? We needed a backlit entrance sign, secondary entrance signs, signs for main buildings, new street signs and directional signs for vehicular and pedestrian circulation. In the end, roughly 50 signs were needed for the entire campus along with their designs
The Design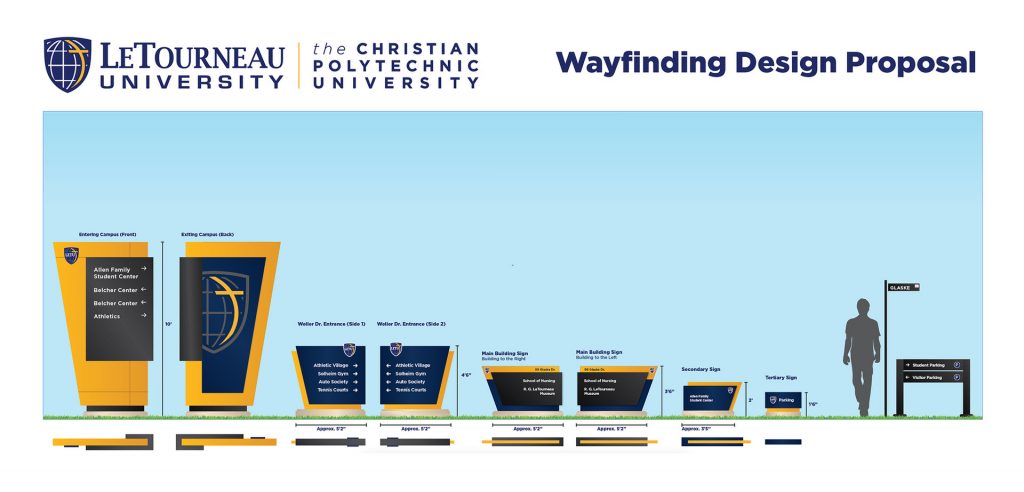 My two years of architectural studies at Southern University weren't a total waste after all. In order to help our project team visualize the finished product, I created some preliminary schematics of the designs, and the final results ended up being quite similar. The angular shapes weren't just for looks but served the function of slightly pointing towards the buildings they referenced. Overall, our team had a pretty good idea of how things would look before we entered the productions phase. I really wish I had taken some pictures of the old signs. They were blue (all different shades) with white posts to either side, and the middle came to a peak like the roof a house. It was definitely time for a change. When designing these new signs, I wanted to bring the look into the 21st century with a sleek, modern design that would stand the test of time (aka the Texas heat).
The Finished Product